The holidays are here again and so we are ushered into shopping season. I thought I would share some of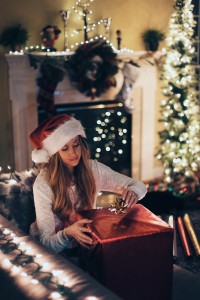 my tips for gift-giving to help promote a more relaxing and conscious holiday spirit.
Clean Cosmetics
I like to focus on what I think people need with a touch of something they don't need. For example, my mom loves trying new shampoos and conditioners. In drug stores it is often hard to find the SLS and phthalate-free options, so I purchase many types from health food stores that don't contain these harmful ingredients.  Druide, Weleda, Green Beaver are good hair care options. Shampoo and Conditioner may seem like odd gifts but I know this is something my mom needs and they are products better for her health. If hair-care products are not a fit, opt for cleaner make-up. Lipsticks can be full of carcinogens so do your research. A website I refer to is www.ewg.org which has a cosmetic database that lists better cosmetic lines. Gift the gift of healthier make-up to a friend or family member and they will pass on this important message too.
Start now!
My husband often laughs at me when he sees the pile of wrapped presents taking over a section of our living room in the last week of November. I feel proud! It means I have carefully thought of my purchases and picked gifts unique for each person well in advance of the Christmas rush. I have avoided long line ups, busy parking lots and the frenetic energy of malls. Starting early has benefits. I can be sitting at home watching all those fun Christmas movies instead of being in the malls. I also encourage on-line shopping that can be done in your pj's and be shipped for free!!! Avoid the last minute to do your shopping as it could lead to overspending and random gift-buying.
Gift Card? Yes!
I used to be on the fence with this but now I am a believer! My husband has always encouraged me to pick up gift cards. My response in the past has been, 'That person may think I did not have time to get them a real gift!' and now I am convinced that it is a real gift. A gift card takes out the guesswork and now after the holidays the gift cards can be used to buy at better pricing and have the person do the choosing. Bonus.
Thrills and Giggles
My favourite gift to share is one that gives an experience. I like to give tickets to musicals or ballets, or even to good restaurants. I always give for 2 people and hope the recipient chooses me! No, just joking. It is usually meant to give to a couple who don't take time for themselves. This is a unique gift that is often met with a smile and the 'how did you know I needed this' expression. This is a gift meant to be shared with a friend or loved one and as I say, give some thrills and giggles.
I hope these gift ideas inspire you and turn this often challenging part of the season into one met with wonder and grace.