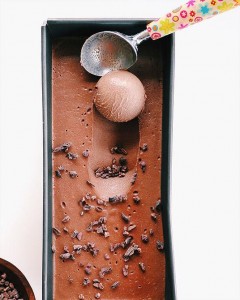 Our resident nutritionist Linda Heredia, has shared with us her favourite summer recipe. This recipe is so simple as a no-churn ice cream or popsicle – perfect for these summer months or anytime you are craving a cold, delicious treat! Bonus – it's packed with more potassium than bananas and loaded with healthy fats to keep you feeling satiated!
Serves: 10 small ice cream bowls or 10 iced pops
Ingredients
2 medium ripe avocados

3 tablespoons cacao powder

3 tablespoons maple syrup (or sweetener of your choice such as honey, stevia, monk fruit)

3 tablespoons almond butter

1 teaspoon pure vanilla extract

2 cups Coconut Milk  (from a can – you can also substitute for your milk preference but a heavier, thicker cream works best)

Optional: Cacao Nibs or Cacao Shavings
Instructions
Blend together the avocados with cacao powder, maple syrup, almond butter, vanilla, coconut milk, and sea salt. Blend until smooth.

Pour into container (or you can use ice pop molds if you want popsicles) and freeze overnight (or 9+ hours). No churning required.

If you are using cacao nibs or shavings you can add this on top
If you are making them as pops let them sit out for a minute or two or run under warm water to loosen and then pull out. Enjoy!